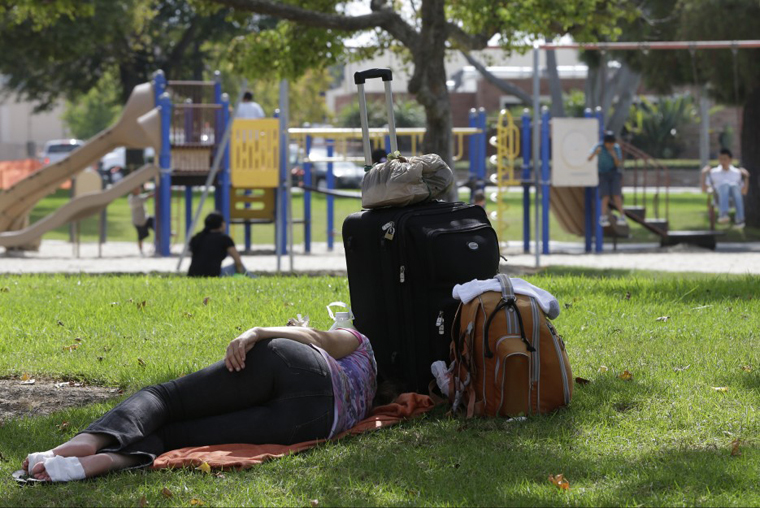 Sonoma County estimates 3,000 people are homeless in the county, and is struggling to respond to this human crisis. $11 million was recently allocated by the Board of Supervisors, this largely in response to a homeless camp now occupying the Joe Rodota trail in the West County, but the larger solutions to reducing homelessness remain out of reach
Given the size of the aging baby boomer generation, baring an exceptional turnaround in public policy, I expect the homeless population in Sonoma County to grow to 10,000 within the next five years. While some boomers have retired in comfort, a vast number have little in the way of savings just as they become increasingly dependent on others due to health problems, dementia, and a too-pricey housing market. Accordingly, the homeless population is increasingly elderly, easily victimized at the hands of predators and subject to dumping by hospitals eager to unload unprofitable patients
What began with Ronald Reagan's decision as Governor to close all of the state's mental hospitals has now grown into a statewide homelessness epidemic. Combined with Jerry Brown's elimination of local redevelopment agencies in 2012 that supported the creation of low-income housing, the aging of the boomer population, and rising rents, a deepening fog of poverty and desperation has moved over the State of California. Unless a massive program is developed, the reality of homelessness will be increasingly felt
The Trump administration is threatening to intervene in California's homeless problem, but how that intervention might look remains a question. Given how refugees and asylum-seekers at the border are being treated, caged behind barbed-wire in detention camps like criminals, it's likely that a "humanitarian" federal solution will include rounding up the homeless and placing them in cages, too. The privately-owned detention center business is highly profitable and their number is increasing rapidly. Such human warehouses purport to treat people decently but an increasing number of reports indicate otherwise. There's no reason to suspect such facilities to house the homeless will be any better, particularly given the medical and mental health needs of an aging population.
In order to get ahead of the situation, local jurisdictions will have to sacrifice other types of priorities; caring for people properly is expensive and there's no profit in it except knowing that needy people are treated kindly. Multiple year-round shelter facilities must be constructed in locations that are accessible by public transportation, staffed by medical and mental health professionals equipped to treat a vulnerable and often unstable population. Cities must be prepared to accept a role in providing care and facilities, and local law enforcement agencies must be engaged to insure that such activity is properly monitored. Being homeless, however, is not illegal and people who are mentally unstable cannot be locked up unless they present a danger to others.
Sonoma county has enjoyed a vibrant tourist economy for many years; new hotel construction continues and vacation rentals have exploded. Significant revenues from tourism are diverted into tourism promotion, but its increasingly likely that dollars devoted to caring for the homeless will begin to need to be siphoned off from other sources, like tourism. Raising taxes and imposing fees is nearly impossible, and the money to address the homelessness problem doesn't grow on trees. Major financial sacrifices will have to be made from other programs like road repairs and public transportation. Get ready for the homelessness Tsunami.