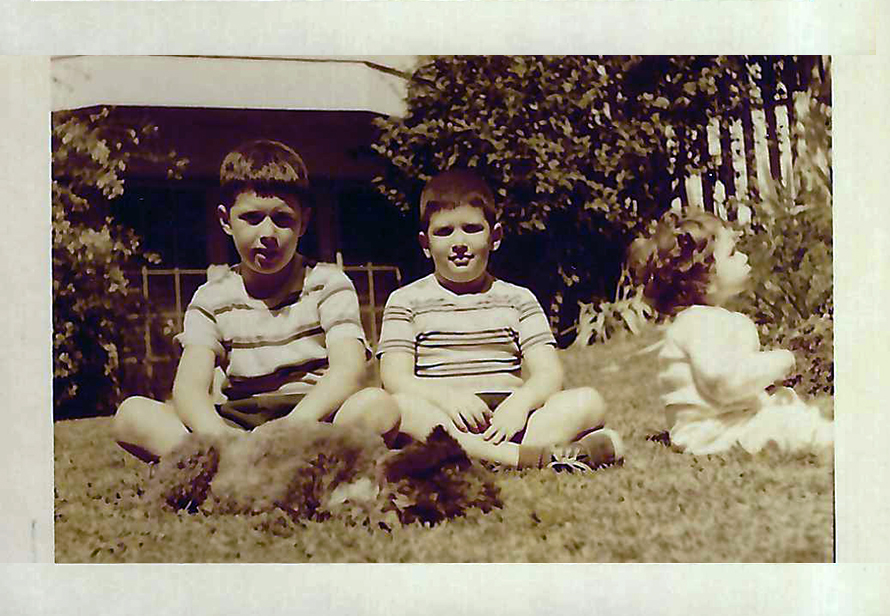 I grew up in the suburbs of New York City where five of us lived in a three-bedroom, two-and-a-half-bath single family home with our dog Bobo and an occasional cat. Behind our backyard was a wooded patch, a ramble of oak, maple, beech, and various shrubs; in the spring, skunk cabbage would pop up in its water-logged lower end, and yellow flowers of tiny forest lilies would nod towards the ground.
From the earliest I can remember, our backyard housed a vegetable garden planted by my mother. She'd plant peppers, cucumbers, green beans, and tomatoes, all of which would variously appear on the dinner table. At the far end of the vegetable garden grew some raspberries, and despite the thorns, I'd pick and eat them as they ripened each year. It was glorious.
My father Norman was the breadwinner, my mother Flory a housewife. He'd leave every weekday morning at 7:30 to travel to Manhattan, where he and his brother ran a freight forwarding company started by my grandfather Bill. Bill, a Jewish immigrant, arrived at Ellis Island from Eastern Europe in 1910 at twelve years old, his eight-year-old sister in tow, after a 38-day passage in steerage, the lowest inhabitable area of the ship. Neither spoke any English.
My family's story is like that of many others; I was raised within a meritocracy that rewarded hard work and the advantages of luck. Our single-family home with its backyard represented the fulfillment of the American Dream, a patch of land we called our own. In that sense, those raspberries symbolized the success of self-reliance and imparted a taste of freedom that began with Bill's escape from the antisemitic pogroms of Russia.
The dream of a single-family home lives on, but in our increasingly stratified economy, meritocracy has been challenged by ideas of privilege. Bill, of course, was anything but privileged. After arriving, his family lived in a basement tenement with damp walls on Manhattan's lower East Side; he learned a new language and over time built a better life for himself and his family. Several years after my father was born in 1919, the family moved into a single-family home with a small backyard on East 29th Street in Brooklyn, where my Grandmother Hannah planted tomatoes.
I've enjoyed privilege stretching back to Bill and Norman, the benefits of their hard work and success. Moreover, 45 years of work behind us, my wife and I have built on that legacy, owning a single-family home with a backyard. And yes, there are tomatoes.
Strangely, the single-family home has now been branded an element of privilege, along with the meritocracy that built it. America's social argument is now centered on equity, the equity of opportunity. From the view of privilege, meritocracy unfairly produces winners and losers. Without the social and economic exploitation of others, the argument goes, meritocracy would fail.
Politically, this process is now playing out with measures such as California's Senate Bill 9 (SB9), which turns the idea of single-family homes on its head by monetizing backyards and permitting four residences on a single-family parcel by right. Promoted as a housing equity solution, it remains unclear who will take advantage of the provisions of SB9; indications are that corporate America is gearing up. So much for backyard garden tomatoes.