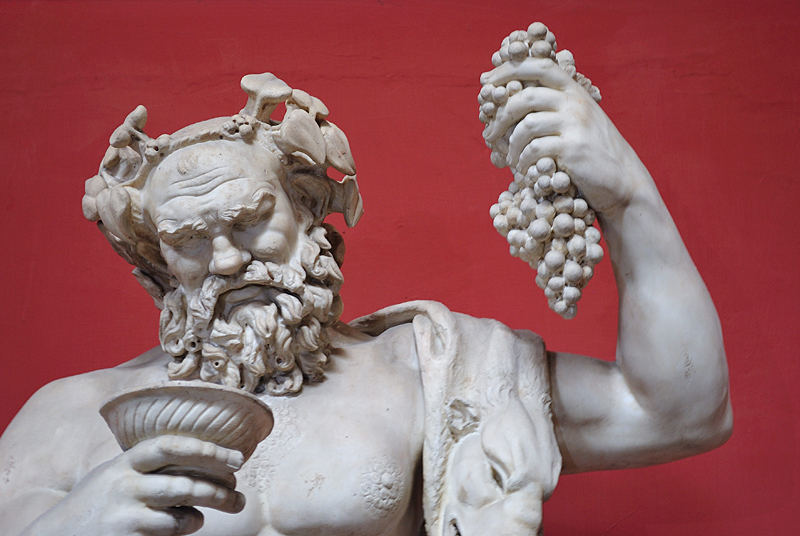 The fermented fruit of the vine, grape juice, has been a big deal for a very long time – like 8,000 years long. This is true despite a lack of neolithic wine tasting rooms, and speaks to the role wine plays in human life. So strong is wine's part in history that it's inspired religious myth, tales of brilliance and degradation, cults, sea trade, tavern owners, physiologists, writers, drunks and the greed of huge multinational corporations.
The myth of Dionysus tells of the demi-god (his mom was a lady) who taught mortals the secret of making wine. Physically, he is described as refined and beautiful, though his friends were an odd lot made up of horny goat-legged Satyrs and raving sex-mad Maenads females who in their vine-soaked ecstasy were known to make people lose all self control. Understand why wine is such a big deal?
Any number of writers and poets credit wine as their muse. "Let's offer flowers, pour a cup of libation, split open the skies and start anew on creation." says the great Persian poet Hafiz. "I am glad to make the moon and my shadow into friends, but then when I have drunk too much, we all part…" the Chinese poet Li Po writes. American Charles Bukowski gets right to the point: "I like myself. I'm the best form of entertainment I have. Let's drink more wine!"
Too much wine — I guess we could call it the "attack of the Maenads" — makes for sorry songs and sad tales. Broken homes, broken marriages, broken bottles, tables, jaws, promises, lives. The other memory of my youth is traveling down the Bowery in New York City when it was furnished with frothy alcoholics instead of frothy cappuccinos.
Physiologically, like any alcohol drink, wine has a personality split: beauty and the beast. Initially wine stimulates the senses, the imagination, the emotions; the rush is liberating and exciting. In time, however, wine depresses – reactions slow, thoughts get muddled, coordination decreases, and DUI's increase. At great excess, the Maenads take over and tear everything to pieces.
When I was growing up, the only wines I knew about were Swiss Colony (with its little old winemaker), Gallo, eventually Almaden and of course, Manischewitz. Basic jug wines (though Manischewitz was something altogether different), they had screw tops and low prices. One's choice was red or white, period. When I moved to the Napa Valley in 1971, I discovered California wine; my rented house in St. Helena was just up the hill from the old Krug winery. In only a few years the rest of the world discovered Napa Valley wine, and in some sense that was the end of the Napa Valley as I knew it. Napa Valley today is almost unrecognizable to me, all due to our fascination with alcoholic grape juice.
Wine has gone mainstream world-wide; the Wine Institute reports that retail wine shipments of California wine hit $19.9 billion in 2011, and 120,000 new wine labels were approved by the U.S. Tax and Trade Bureau. Dionysus was no schmuck; he knew exactly what he was doing.
Sonoma now has close to 20 downtown wine bars ("tasting rooms" they call them, it's much more…tasteful!) and while the tourists are lapping up the juice the priests of Dionysus are raking in the dough. As for those of us who live here, lucky us, we get to clean up after the party.