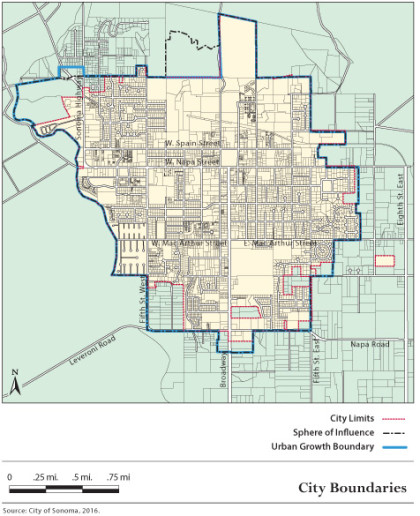 Once every decade or so a monumental land-use matter arises in this community which sets the stage for the decades to come. In the 1990s it was the luxury high-end Rosewood Hotels resort proposed for the hillside above the city cemetery, where the open space and Overlook Trail are today. The ballot measure championed by Joe Costello to prevent that development received my support and the support of 70 percent of the community. It was a clear rebuff to a huge corporation that saw Sonoma as little more than a potential profit center, and set the stage for the community's widespread support of a urban-growth boundary, or UGB, to stop sprawl and high-end land speculation at the city borders.
The proposal by multi-million dollar Cirrus Health to amend the UGB and develop a huge, high-end hospital-medical-spa-hotel and commercial complex on 22 acres at Eighth Street East and Napa Road will be the defining land-use matter of this decade. Cirrus Health and sister company The Cirrus Group are described on their Web site as "a full-service real estate development company specializing in the delivery of customized real property within which state-of-the-art medical services are performed." They propose to add 72.3 acres to the city limits (including the 22 acres they want to develop and all the land between it and the current UGB), and annex all that acreage. Just to provide a sense of how large an area this is, consider that The Lodge on Broadway is located on only 9 acres. Seventy-five acres is as much land as was converted to housing and commercial uses during the entire decade of the '90s.
If I were advising Cirrus on a strategy to replace our local hospital with a high-end "destination" hospital spa-hotel development, I would advise them to do exactly what they are doing. By bringing a "free" hospital proposal to the ballot wrapped snugly into a UGB amendment (despite the fact that the amendment does not and cannot require the land to be used for a hospital), I believe the parcel tax measure to keep our community hospital in operation will not get the 67 percent vote it needs. I think Cirrus knows this, despite protestations to the contrary.
The Cirrus spokesman, local architect Michael Ross, who is also the architect and partner in the medical-spa hotel, stated that they must hurry this process along because it will cost money to delay it. He said the medical spa is not a hotel, despite plans for 60 guest "casitas, tennis courts, swimming pool, lovely gardens, and projections of generating hotel taxes. He stated that Cirrus is open to sharing the land with the hospital district. He stated that Cirrus is not trying to compete with the coalition in developing a plan for a local hospital. He stated that this process must begin now to qualify for the ballot in June. Frankly, all this strikes me disingenuous.
Ballot measures must come to a vote within 88-105 days after the certification of the signatures on a legally circulated petition. This means that such an election can occur at any time, and that June is not an absolute deadline by any means. So the question arises as to why Cirrus is rushing this process? The answer, I believe, is that if the parcel tax fails, and our community hospital is forced to consider closing, Cirrus plans to be the "hero" that keeps the public hospital open until their private hospital is built. I think they will offer to cover the emergency room and essential services deficit in exchange for a management role and accelerated development approval by the various county, state and city agencies required for approval. This strategy makes Cirrus the "hero" while in fact replacing our public-owned community hospital with a private, profit-driven commercial hospital/hotel complex geared to the wealthy. If I were advising Cirrus, which I am not, this is what I would suggest.
No doubt there is plenty of money to be made by catering to the health care needs of rich baby boomers with heart disease and complications of diabetes looking to combine surgery with a cushy stay in the Wine Country. Sonoma is an irresistibly attractive financial plum to corporate America. However, the Cirrus proposal to expand the UGB will initiate a land-speculation rush that the current UGB was specifically developed to prevent. Call it a free hospital-medical-spa-hotel complex or call it sprawl. I call it Rosewood Two.